I was inspired by this set of
letterpress stationery
that I saw on Pinterest. At first I thought the gray paper was part of the card but then I quickly realized it was the envelope. But, the seed had been planted and I couldn't let it go.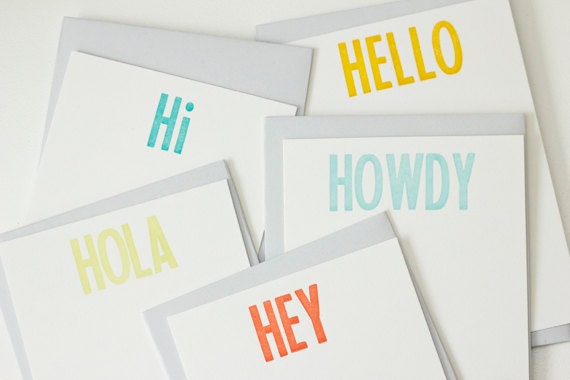 So, I pulled out some cardstock and my Headline Alphabet and created this set of cards using the exact same words as the stationery.
Here's is a close shot of the "Hello" card. I used Hawaiian Shores cardstock and ink.
And another one. I offset the white cardstock on top of the color and I LOVE it. It looks fresh and modern. And, even though I don't have a picture of it, I did the exact same thing on the inside of the card - I adhered some white cardstock touching the bottom and right sides rather than centering it.
And here's a shot of all of them with the words I used - all beginning with "H". You could really use them for any occasion - birthday, thank you, thinking of you. Probably not for a sympathy card though. The Hawaiian Shores (turquoise) card looks so mellow in this photo for some reason.
It just so happens that I made this gift set for a wedding shower we attended yesterday for my husband's cousin. Here's the little holder I made for it. Also tucked in there is a gift certificate for BBB. They were out of the towels I wanted to get and it would be easier anyway to have them shipped right to her home in Boston rather than transporting them half way across the country from Iowa to Boston.
And the back:
I used some larger rivets on the sides of the box so it would be less likely to tear. And some black twill for the handle.
I may just have to make more of these. I'm just tickled with the clean and modern look of them. So easy to replicate and they're flat for easy mailing (I'm all about the practical!).
Thanks for dropping by!
Supplies:
Cardstock: Pure Poppy, Hawaiian Shores, Hibiscus Burst, Summer Sunrise, Simply Chartreuse, Kraft, White (PTI)
Ink: Tomato Red (Fresh Ink), Hawaiian Shores (PTI), Hibisucs Burst (PTI), Mango (Fresh Ink), Simply Chartreuse (PTI)
PP: MME
Stamps: Headline Alpha, Wonderful Words, Enjoy The Ride, 2009 Halloween Tags, Happy Trails (PTI)
Other: cloud die, scallop punch, rivets (We R Memory Keepers), twill, book page